Juan "Accidentes" Dominguez is on his biggest case ever. On behalf of twelve Nicaraguan banana workers he is tackling Dole Food in a ground-breaking legal battle for their use of a banned pesticide that was known by the company to cause sterility. Can he beat the giant, or will the corporation get away with it? In the suspenseful documentary BANANAS!*, filmmaker Fredrik Gertten sheds new light on the global politics of food.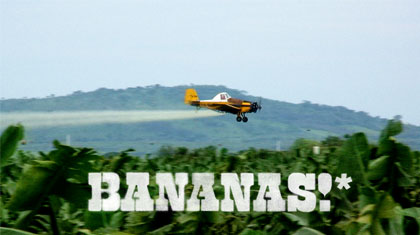 One third of the production price of the average banana is used simply to cover the cost of pesticides1. All over the world, banana plantation workers are suffering and dying from the effects of these pesticides. Juan Dominguez, a million-dollar personal injury lawyer in Los Angeles, is on his biggest case ever representing over 10,000 Nicaraguan banana workers claiming to be afflicted by a pesticide known as Nemagon. Dole Food and Dow Chemicals are on trial.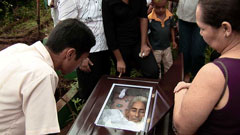 Byron burying his father Alberto Rosales
Another banana worker is being buried in a small northern town in Nicaragua. For his whole life, Alberto Rosales used his machete to remove weeds from below the banana plants. His son says his last years were filled with pain, a body that was itching all night — and in the end his kidneys stopped working.
Inside the church, filled with friends and family, Father Bayardo begins his sermon. It's not about Alberto Rosales after awhile. It's about pesticides. Father Bayardo is accusing landowners and US transnationals of immoral practices which he says cause the death and suffering of many members of his community.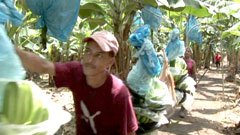 Workers at a banana plantation
The whole region of Chinandega is an ecological disaster zone. The pesticide spray has left its mark everywhere. The soil, the water, the animals, the food of the people are all affected. The level of pesticides in breastmilk is 700 times higher than is acceptable2. Some say it will take 200 years for the ground to heal itself enough to produce natural crops again.
One of the pesticides, a DBCP-based compound called Nemagon, was banned in the USA in 1977 for causing male sterility. Standard Fruit—now Dole—continued to use the pesticide in its plantations outside the USA up to 1982.
Enter Juan Dominguez.
Dominguez, a personal injury lawyer and a member of the "Million Dollar Club" of attorneys in Southern California, is making history. As the legal representative of over 10,000 Nicaraguan banana workers, he is the first attorney ever to force American corporations to take responsibility for actions they have done outside US borders.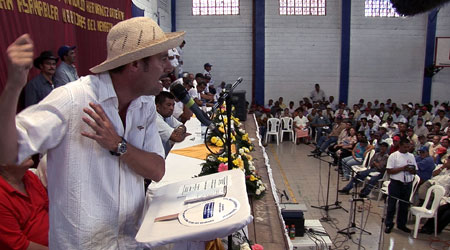 Juan Dominguez giving a speech in Estelí, Nicaragua
This case has been followed by experts and companies all over the world.  If Dominguez is successful, it could rock the economic foundations of Dole and Dow, and would open the US courts to other global victims of US-based multinationals.  It would represent a new day in international justice, and there are further cases of a similar nature coming up next in many jurisdictions.


Juan Dominguez billboard ad
---
References
Anne Vézina quoted in Banana drama by Robin McKie, The Guardian, May 21, 2006.
Marianela Corriols (PAHO/WHO) interviewed in Nuestro veneno de cada dia, documentary, 2005.