What's hidden under that pretty, yellow skin? What stories can be found? Rebeca Méndez is the designer of the visual identity for BANANAS!*, and in particular responsible for the asterisk behind the title.
"The original movie title BANANAS! had a two-fold edge; it means that bananas are the subject matter of the film, and the exclamation mark makes it into a widely known catch phrase used to exclaim indignity and disbelief about an absurd situation, as in: 'This mess is so bananas!' We wanted to add a third dimension of awareness to the title that tells you there is more to find out about bananas. There is a footnote to its jolly image, this information that has been omitted, that once revealed will make you think twice about the food that we consume."
"The asterisk is our engine to activate a movement, and, in hindsight, it is perhaps also our saving grace. With the addition of an asterisk to the title we acquire this built-in force to expose the rotten state of affairs behind the delicious bananas. The wholesome banana of modern pop culture, one of the most popular fruits in the western world, is not as innocent as it seems. The pesticides used to grow that golden yellow banana are possibly causing widespread disease, deformity and death among the workers and their families on the plantations in the tropical regions of our planet. The asterisk allows us to question this situation. By adding this universally understood typographic character we acquire a method to reveal unjust circumstances and affect behavior. It has the potential to become a tool to unmask unethical business practices in any industry. That's the idea and ambition. "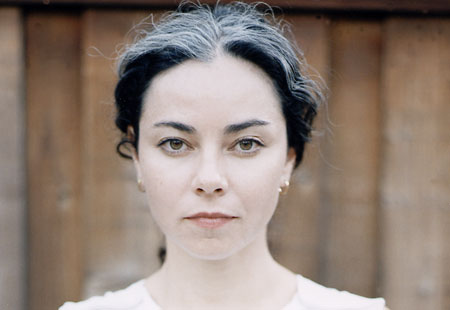 Rebeca Méndez
Ms Méndez was creative director at a giant advertising agency, creating multimillion dollar campaign identities for the world's largest brands. Now she is professor at UCLA in Design and Media Arts, and in her design research and practice concentrates on critical reflections of visual communication practices, in particular on brand identity and consumer culture, to encourage formation of independent opinion and participation.
"When I left advertising I was interested in applying those lessons of mass market messaging to non-profit or cultural organizations, where the motive is not monetary profit, but spreading a social awareness. For example, the Los Angeles Commission on Assaults Against Women (LACAAW) approached me in 2003 to give them a new name and visual identity. This resulted in developing the concept of a name like an engine. We gave them the name Peace Over Violence, where "[blank] Over Violence" is the engine, and can be adapted by anyone who wants to sign up to the cause; it can be 'Juan Over Violence', 'Dole Over Violence', 'Bananas Over Violence'. Because non-profit agencies and many cultural institutions do not have big budgets to spend on marketing and advertising, you have to find this force within, so it will propel itself and do the work for you. When Fredrik Gertten (the maker of BANANAS!*) saw this work, he asked me to come up with an engine for his movie. His desire and vision was to create a design for all media that encourages you to learn more and get involved. This became the '*' or asterisk."
With her husband Adam Eeuwens, a writer and strategist and also partner in her studio Rebeca Méndez Design, Méndez developed the core brand identity for BANANAS!*, designing the logotype, its color palette, initial campaign ideas, and a set of brand guidelines. Then she handed the package to her Fall 2008 Visual Communication class of senior students at UCLA, and gave them the assignment to create a comprehensive communication strategy and design across all media for BANANAS!*
"The first step in the creative process is to immerse yourself in research on the subject matter, and the Internet holds a wealth of material, from old commercials with singing bananas on You Tube to Wikipedia facts on the origin of the term "banana republic," to Dole's own home page. You explore any lead to ignite the creative spark; to turn strategy into story."
"For a class course of ten weeks, the students did well, and a lot of their ideas had influence and even a few of their designs made it to the final cut. The BANANAS!* Twitter ticker on the front page on the website picks up on everyone using the word 'banana,' 'pesticides' and 'Nicaragua' in their twitter messages, and is an idea conceived and coded by one the students. And the bananas photos for the poster were made by a student who bought them fresh and photographed the rotting process for weeks until they were completely black and fluid."
"A lot of the student work followed the angle of the implications of pesticide use on the health of the consumers. One factoid we got from the Swedes was about chimpanzees in the zoo in Copenhagen who eat organic bananas skin and all, while they peel the bananas treated with pesticides. That fact alone changed awareness and a couple of habits in the class. It was interesting to notice that the students have a very keen understanding that everything in the world is connected, and immediately sense that what pesticide goes around at one point must come around. It is obscene to them that personal profit could be more important than the public good."
Student concept sketch for flag asterisk animations