All BANANAS!* merchandise is handled by the WG Film Shop. When you click on an item, you are re-directed to that item on the shop website. The shop is located in Malmö, Sweden and supports payments via credit card and PayPal. Thank you for supporting BANANAS!*
The BANANAS!* DVD is now available in Scandinavia.
UK and US release will follow in 2010.
Order your copy now »
(link to the WG Film shop)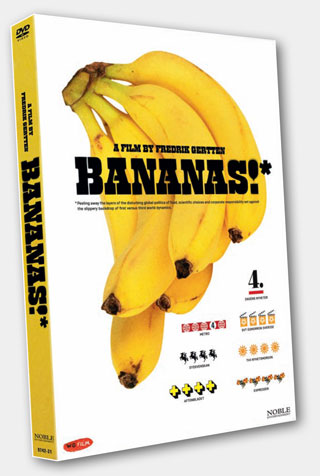 BANANAS!* DVD
Price: 15 Euro
Picture: PAL 16:9 Widescreen
Sound: 5.1 Surround
Length: 87 min + 38 min bonus material
Language: English, Spanish
Subtitles: Swedish, Danish, Finish
Region: 2
Cover: Swedish
Bonus material:
Interview with Fredrik Gertten from Spegeln cinema, Malmö (in Swedish).
"Pictures from a banana plantation", 13 min.
BANANAS!* Posters