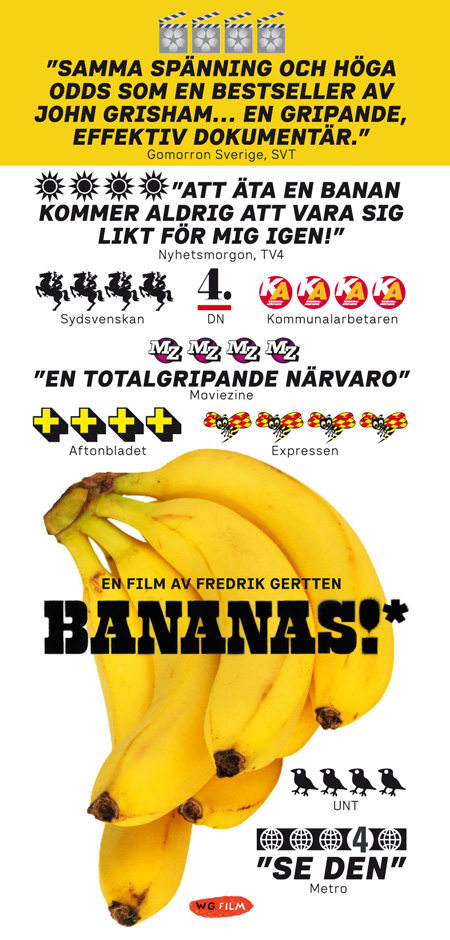 Dagens Nyheter (4/5) »
Maaret Koskinen
Sydsvenskan (4/5) »
Michael Tapper
Gomorron Sverige, SVT (4/5) »
Göran Everdahl
Nyhetsmorgon, TV4 (4/5) »
Ronny Svensson
Expressen (4/5) »
Ronnit Hasson
Aftonbladet (4/5) »
Jan-Olov Andersson
Documentary Field Notes and Flashpoints, Nov 27, 2009
Magnus Isacsson
"I was at the edge of my seat, dying to see how the law suit was going to end. Well shot, well edited, and with judicious use of archives and court room footage, this is a really important film."
n:zone, July 28, 2009
Debbie Lynn Elias
"An extremely well crafted film, in addition to the courtroom drama, there is raw human emotion and even humor. This is life. This is litigation. This is a front row seat to a history making event, that of third world claimants being heard as plaintiffs for the first time in a U.S. Court."
"There is a polish to the overall production with its many textural components of archival footage, courtroom footage and present day observations and background material that makes for a compelling human drama. And as with all good documentaries, it raises questions – and not just about the legal turmoil – but about corporate responsibility, ethics and human rights."
"From a filmmaking standpoint, the documentary is informative, educational, interesting and gives one pause to think about not only the events in this film, but the agricultural industry itself."
Jesther Entertainment, June 24, 2009
Ed Rampell
"… an extremely well crafted, powerful chronicle of an important issue. If one looks closely, the viewer can see Dole's side of the story also being told"
"… this film is doing what movies should be doing: after the Tuesday screening and panel (which ran to midnight) viewers were debating the picture's pros and cons outside the theatre, stirring discussion about important social issues"
"BANANAS!* is food for thought, and LAFF's must-see film"
Variety, June 22, 2009
Peter Debruge

"… an incredibly polished film"
"Swedish helmer Fredrik Gertten offers a front-row seat to a landmark "Erin Brockovich"-style trial …"
"The case could make history, marking the first time Third World agricultural workers are heard in U.S. court, and set precedent, allowing him to sue on behalf of the many other Chinandega locals awaiting their day in court."
"… "BANANAS!*" is quite balanced, airing the opening and closing arguments of both sides."